Denise Zingale
Award Winning & Internationally Published
Owner ~ Hairdresser ~ Writer ~ EFT/Reiki Master Practitioner ~ CPT
As a professional hairdresser and wellness practitioner/educator, I have  enhanced my talents and skills with training and education received in the United States, Canada and Europe. My success lies in your satisfaction, and I pride myself in listening and responding to your individual needs. I invite you to experience in a relaxing, private studio environment, the latest in "wearable" trends, treatments and technology where now "new things in hairdressing are not all about drastically changing hair, but about helping you to look and feel the best you can!" ~ Denise
EXPERIENCE
Owner – Hairdresser – Beachwood, Ohio
D'MAZ Lifestyle Salon, Inc.  (January 2001 – Present)
Specializes in Hair-cutting, Styling, Color & Permanent/Body Waving. EFT/Reiki Master Practitioner & CPT.
Ladies Designer – Chicago and New York
NCA Spring/Summer Hair America Design Team (PBA)
Created & educated the Ladies 2004 Spring/Summer "Short", "Medium" & "Long" Haircuts, Color & Perm Design Trend Release.
Artistic Director/Hairdresser/Educator – Beachwood, Solon, Woodmere,
Developed Associate Training Programs & trained new employees.
Oversee daily operation, (inventory, ordering, promotion)
Serviced clients (hair-cutting, styling/up-do's, color, and permanent waves)
Instructor, Advanced Education
Advanced Certified Instruction
Instructor for advanced/continuing education classes held in Ohio for licensed hairdressers.
Educator (Permanent Waving Specialist & Hair-cutting Artist)
Sales and Education – NE Ohio, PA, NY
Zotos International – Subsidiary of Shiseido USA
Assisted sales in closing perm deals. Performed and taught on platform at regional Hair Shows and in salons.

Voted one of Cleveland's Best Color & Hair Salons

Winner, Best Hair Salon

Winner! Fourth Annual Helene Curtis National Professional Perm Techniques Contest

Winner! Design 2000 Competition
Certified Personal Trainer
(February 2008 – Present)
National Gym Association, Inc. (NGA), License CPT2310R12
AHA Heartsaver First Aid CPR AED
Premedics Inc. ID# TN20259  Expires: 10/2024

Americas' Educator Designation Lifetime Designee
Professional Beauty Association/National Cosmetology Association
Certified Reiki III Master Level
(October 2001 – Present)
Professional Master's Figure Competitor
(May 2007 – Retired from competing in 2011)
PROFESSIONAL MASTER'S FIGURE COMPETITOR
(May 2007 – Retired from competing in 2011)
What is a figure competitor?
A figure competitor is a female who lives a lifestyle of complete wellness. She trains with weights, does cardio, and eats a clean, balanced diet to achieve an overall fit, lean, healthy physique.
Training and preparing for a figure competition is intense and disciplined. The journey to get there is no less grueling than a fitness athlete or bodybuilder's program.
In most federations or divisions, she is judging upon her overall athletic development, muscle tone, and symmetry. A figure competitor is low in body fat without being "skinny" and is lacking deep muscle separation and or striations normally seen in bodybuilding. Her skin and skin tone, hair and facial beauty are also taken into consideration.
Also a factor is the figure competitor's ability to present herself with, poise, grace and confidence walking and posing on a stage in 5" heels!
NGA CERTIFIED PERSONAL TRAINER
(February 2008 – Present)
National Gym Association, Inc. (NGA), Certificate #: CPT2310R12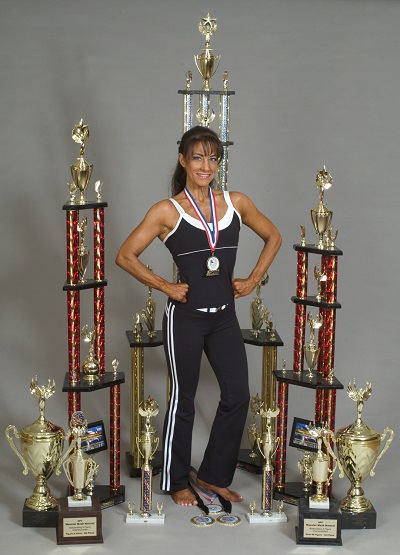 What is an NGA personal trainer?
The National Gym Association, Inc. (NGA) was established for the purpose of maintaining the highest standards of safety, education, and training.
Denise became an NGA Certified Personal Trainer to enable her to offer to clients more customer support by offering information, education, and recommendations in many other aspects of wellness such as general health & nutrition and instruction how inner health affects hair & outer beauty.
Denise is certified in both practical and ethical standards to insure that her certification provides her clients with the most current information in nutrition, health, fitness, and exercise physiology. She updates & reviews essential concepts and procedures yearly.
Disclaimer: Denise's information is in no way intended to diagnose, treat or cure any scalp or hair issues, forms of hair loss or thinning hair or any other related health issues and is not to be depended upon as a substitute for any recommended consultations with qualified health professionals.
CERTIFIED REIKI III MASTER LEVEL
(October 2001 – Present)
What is Reiki?
Reiki is spiritually guided life force energy.  Re: which means "God's Wisdom" or "The Higher Power" and Ki, which is "life force energy".
A simple, natural and safe Japanese technique administered by "laying on hands" or sending energy through distant healing.  It promotes stress reduction, clarity, relaxation, well-being and healing.  Reiki treats the whole person in mind, body, spirit and emotion. It has been effective in helping virtually every known illness and malady and works in conjunction with all other medical or therapeutic techniques to relieve side effects and promote recovery.
EMOTIONAL FREEDOM TECHNIQUE (EFT) PRACTITIONER
EFT stands for Emotional Freedom Technique. It is often referred to as 'EFT Tapping' or simply as 'Tapping'.
Tapping provides relief from chronic pain, emotional problems, disorders, addictions, phobias, post traumatic stress, and physical diseases. Tapping has revolutionize the field of health and wellness, the healing concepts that it's based upon have been in practice in Eastern medicine for over 5,000 years. Like acupuncture and acupressure, Tapping is a set of techniques which utilize the body's energy meridian points. You can stimulate these meridian points by tapping on them with your fingertips – literally tapping into your body's own energy and healing power. The tapping technique Denise teaches is easy to learn and can provide impressive results quickly.