Hair & Body Care Products

ONLY THE BEST FOR YOU!
There are so many hair care & body products on the market these days, it can be overwhelming to find the right products for you. The hair & body care lines at D'MAZ Lifestyle Salon were very carefully chosen based on their proven ability to perform and give the best results with attention and respect for the environment using high-grade natural and organic ingredients. It would be a pleasure to prescribe for you a custom home regimen that would help give your hair the best health, shine, and control for your hair texture and type. ~ Denise
Gift Baskets
Need a special gift? With just a phone call or email, you can make a difference for someone special in your life.
(Please see the gift certificate and gift basket policies)
PLEASE NOTE:  Until further notice, there are no refunds or exchanges on any retail products.

______________________________________________________________________________________________________________________
DAVINES HAIR & BODY CARE
Davines quality hair and body care products are enriched with high percentages of rapidly biodegradable ingredients of natural & organic origin, scientifically engineered by creating beauty sustainably and minimizing environmental impact. Shampoos are formulated using gentle surfactants and are sulphate free. All of the Davines products are free of parabens.
The Davines Haircare lines have been designed to respond to precise necessities of the individuals hair. Each of haircare lines are characterized by specific formulas to restore and preserve the hair structure and integrity, guaranteeing the health, shine and beauty of the hair, day in, day out. Travel sizes available! SHOP DAVINES ONLINE HERE!


ABBA – Pure Performance Hair Care
100 % vegan, botanically correct professional salon formulas designed to deliver the highest level of performance with minimal impact on the environment.
All products are formulated with natural plant botanicals, herbal extracts and natural oils and include the proprietary Herbal Protein Complex – a combination of proteins and extracts that work synergistically to restore, strengthen and repair hair resulting in optimal condition and shine. SHOP ABBA ONLINE HERE!

–

AQUAGE – Innovative salon hair care with healing sea botanicals
SeaExtend Ultimate ColorCare with Thermal-V ~ sulfate, paraben & sodium chloride free. Strengthening, Silkening, Volumizing Shampoos & Conditioners ~ treatments, styling, thermalizing, texturizing, & finishing hair care products deliver ultimate results. Travel sizes available! SHOP AQUAGE ONLINE HERE!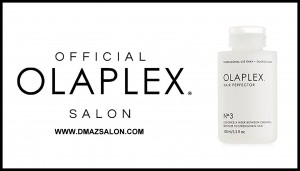 Olaplex is the only professional product that has been issued numerous patents by the U.S. Patent and Trademark Office. Olaplex is free of silicone, sulfates, phthalates, DEA, aldehydes, gluten and is never tested on animals. Olaplex is the only product with the chemistry that multiplies and cross links broken disulfide bonds in the hair and reconnects those hair bonds that are broken during thermal, mechanical and chemical services. Olaplex can be received in salon only as a treatment or added to any chemical service to dramatically reduce breakage, add strength and shine. Olaplex #3 is retailed for home use. SHOP ALL OLAPLEX PRODUCTS HERE!

PROFESSIONAL PRODUCTS
Schwarzkopf Professional Hair Color  *  Zotos  *  Davines  *  ABBA  *  Aquage  *  Olaplex  *  "The Original" Moroccanoil